Craving Crunch? Try Our Irresistible Seaweed Snack
Add flavor to your life with the satisfying crispiness of Tao Kae Noi seaweed snacks. We meticulously select high-quality natural seaweed from international sources that meet our standards, season it to perfection, and employ modern manufacturing processes to create seaweed that is perfectly crispy. It stays fresh for a long time and comes in a variety of flavors, appealing to people of all ages and lifestyles. Whether you enjoy it as a snack during your free time, mix it with your meals, or share it with friends as a delightful gift, it's convenient and loved by everyone.
Table of contents
The History of Tao Kae Noi Seaweed Snacks
When it comes to seaweed snacks, undoubtedly, one of the brands that many people think of is none other than Tao Kae Noi. The journey towards becoming a well-known seaweed brand began with its founder, Mr. "Itthipat Peeradechapan" Or Mr.Top. He established the seaweed snack business at the young age of 19. Through numerous taste experiments and production process improvements, they discovered seaweed with a unique and delicious taste. Today, Tao Kae Noi seaweed snacks are available in department stores and leading general retail stores, capturing the hearts of many people and gaining popularity for their delicious taste worldwide.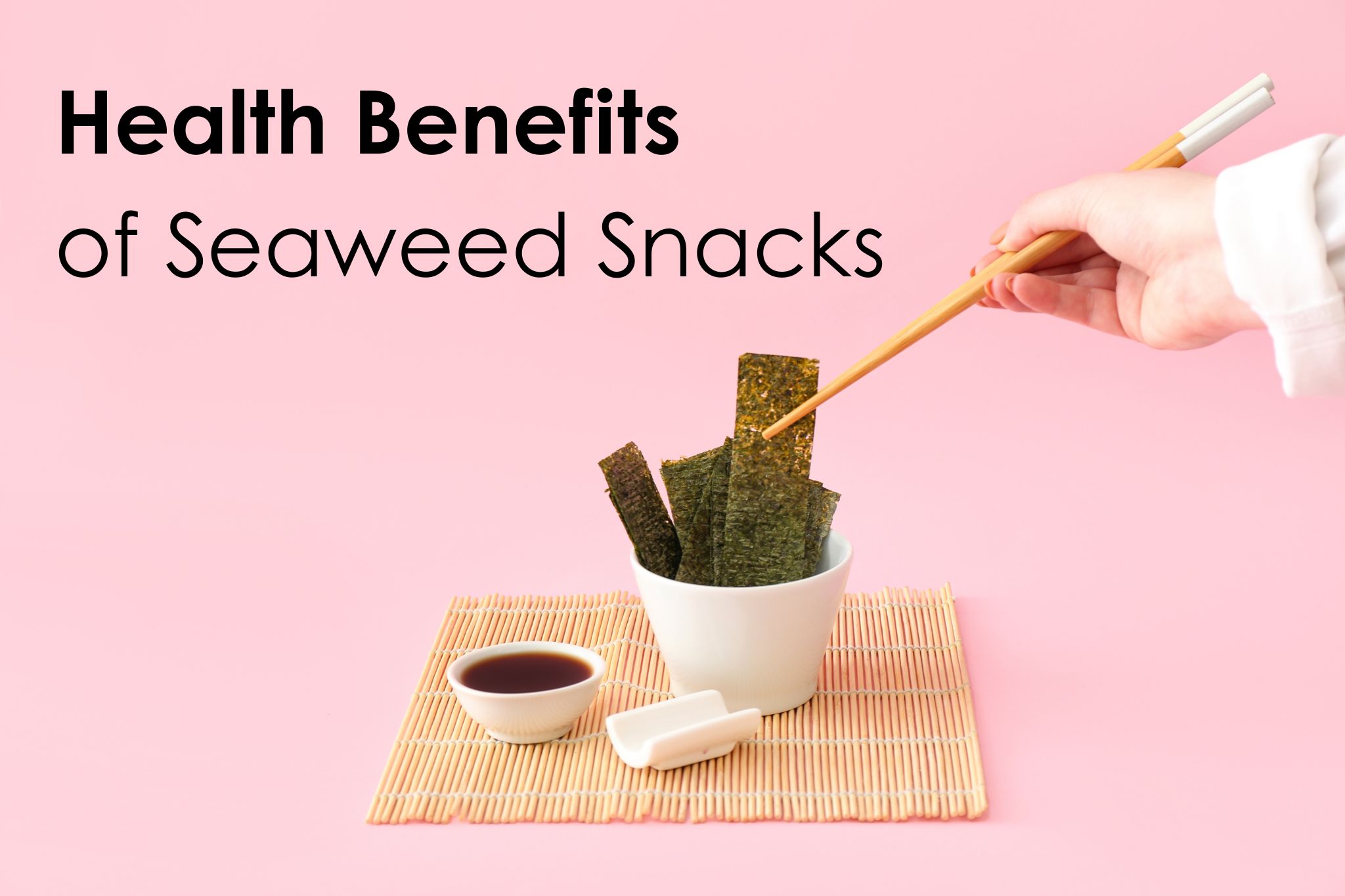 Health Benefits of Seaweed Snacks
Eating seaweed snacks is not only a delicious treat but also beneficial for health. Seaweed is rich in nutritional value, packed with beneficial nutrients such as iodine and amino acids known as tyrosine, which aid in memory, stimulate brain function, and support the nervous system. It also contains dietary fiber, assisting with digestion. Furthermore, seaweed is a good source of proteins and vitamins such as A, C, E, B12, and omega-3 fatty acids.
Different Flavors of Tao Kae Noi Seaweed Snacks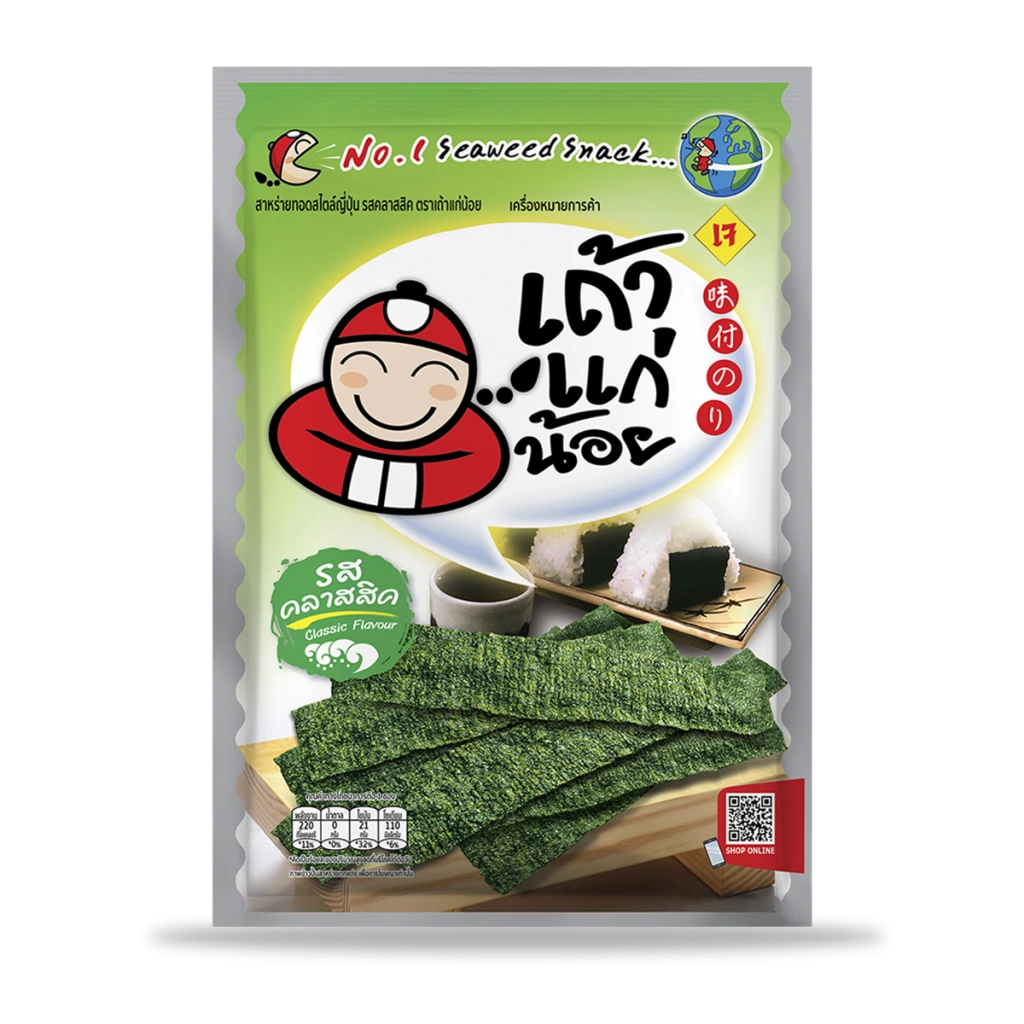 For those trying seaweed snacks for the first time, I recommend trying the original flavor or the classic flavor. With its delicious taste that complements the unique aroma of seaweed, it's a flavor that appeals to all ages. Even children enjoy it because it's not spicy, and it's a perfect snack for any time.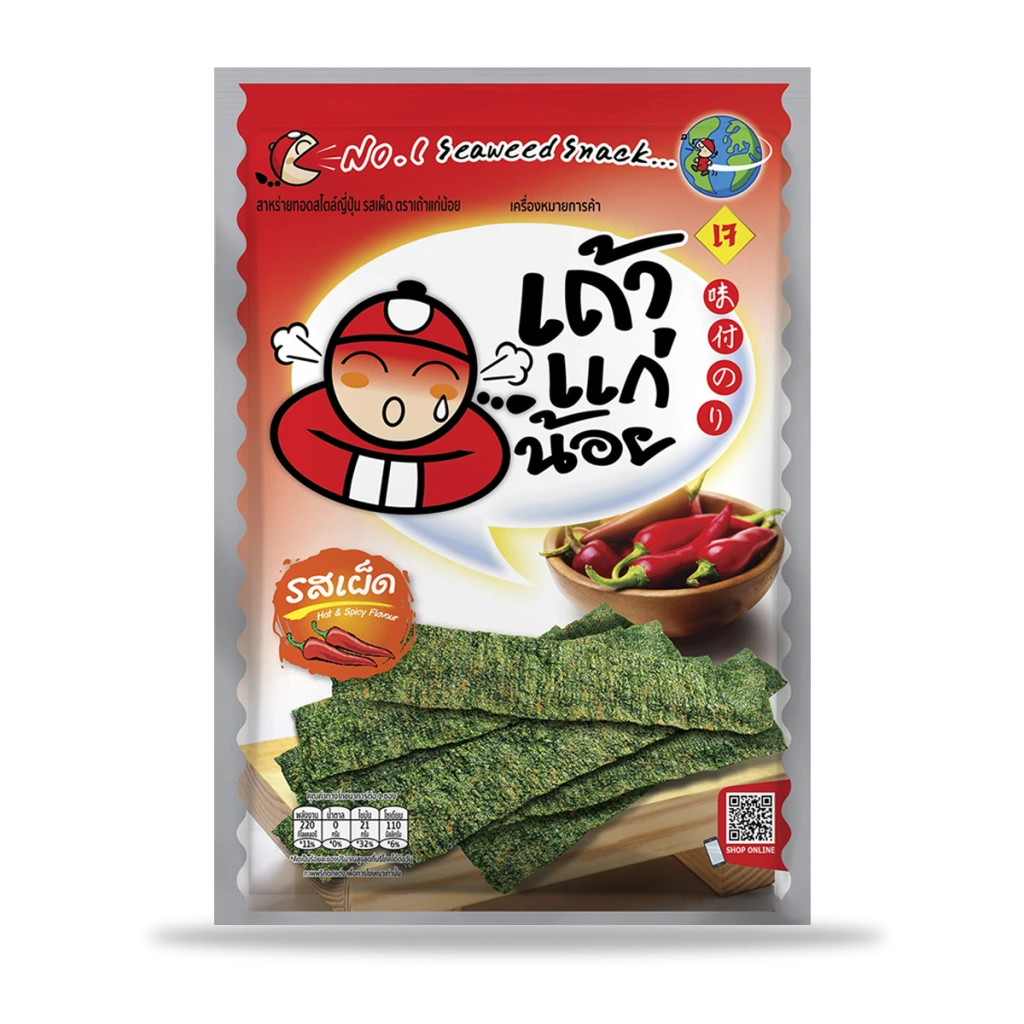 Spicy flavor seaweed, loved by Thai people who enjoy spiciness. If you're someone who likes a bold and spicy taste, the spicy flavor seaweed is another option you must try. It has a delicious taste without being overly spicy. If you want to experience a different flavor from Tao Kae Noi seaweed, the spicy flavor is one I recommend.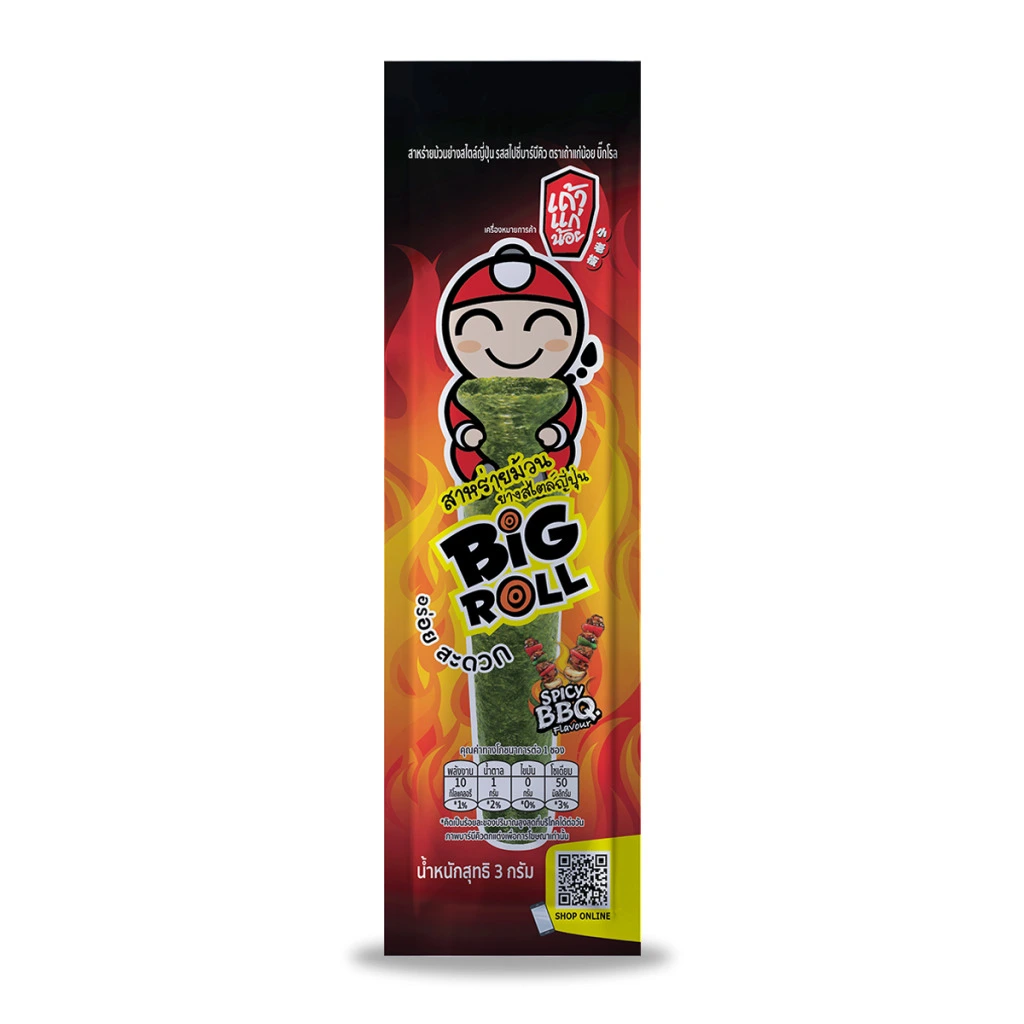 BBQ Spicy flavor seaweed, with the enticing barbecue taste and a hint of spiciness from the BBQ and spicy flavors combined with the natural seaweed taste, creating a delicious fusion that you must try.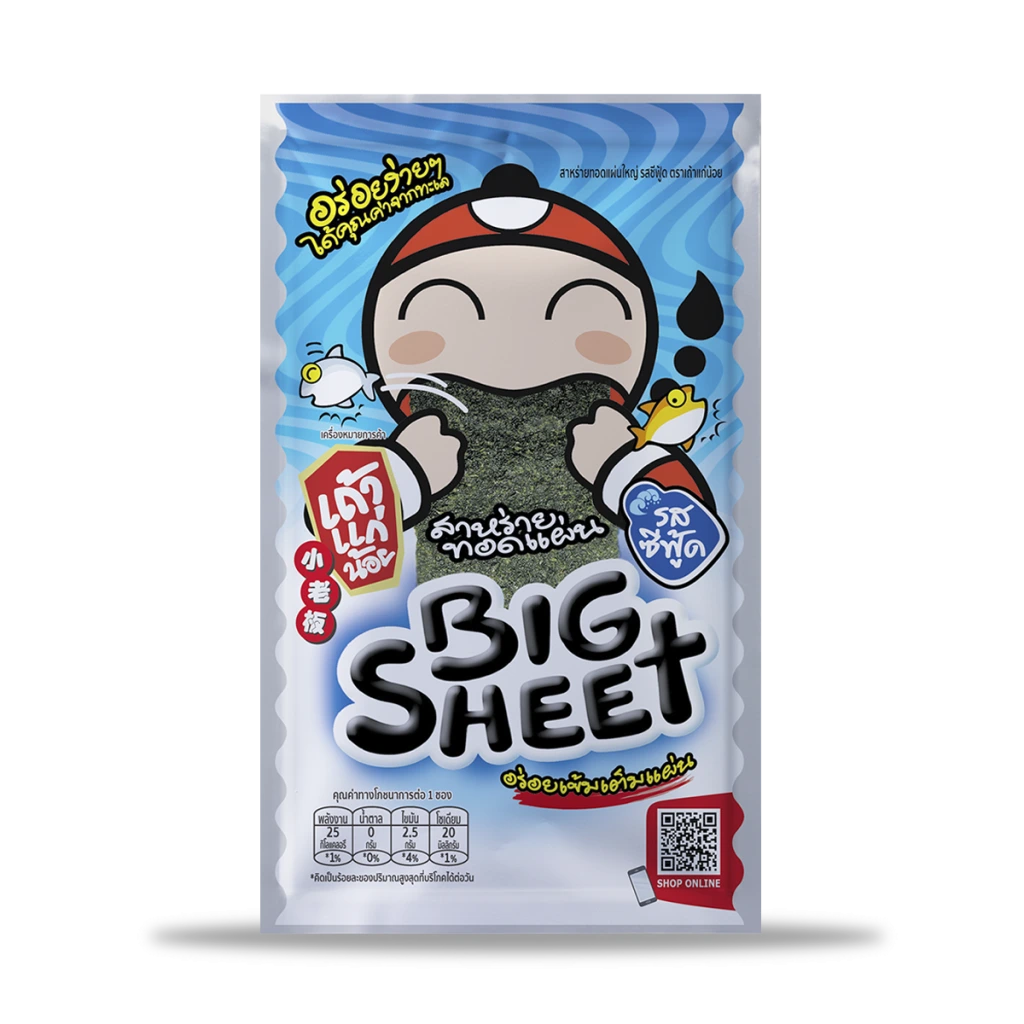 Seafood Flavor Seaweed, anyone who loves seafood must try it. With the unique aroma of seafood, the blend of seafood and seaweed flavors creates a perfectly harmonious seaweed snack. Seasoned with a special recipe from Tao Kae Noi, it enhances the flavor even more. Seafood enthusiasts, if you haven't tried it yet, you're missing out!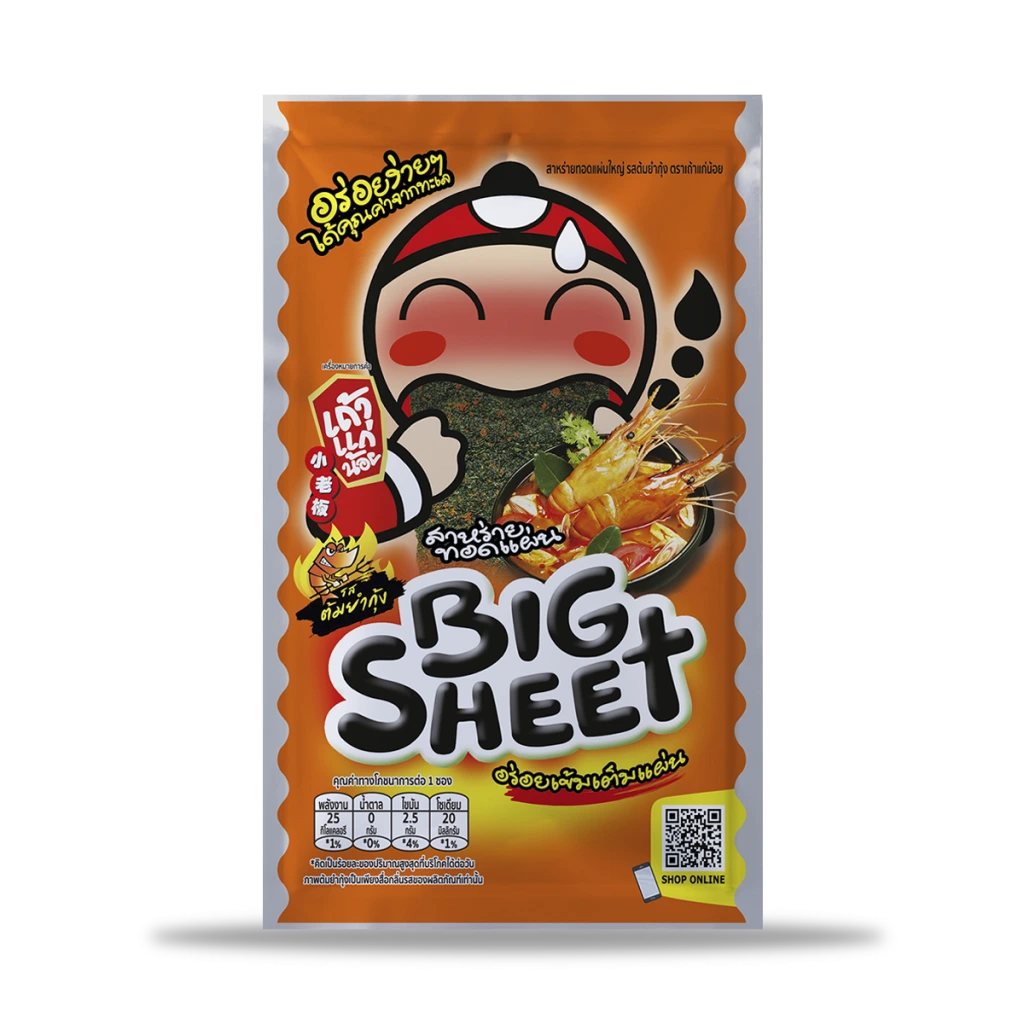 Tom Yum Kung Flavor, delicious and authentically Thai. With the fragrant spices and herbs, it has the distinct tangy and spicy taste of genuine Tom Yum Kung. It pairs wonderfully with the flavor of seaweed. If you haven't tried it yet, you must!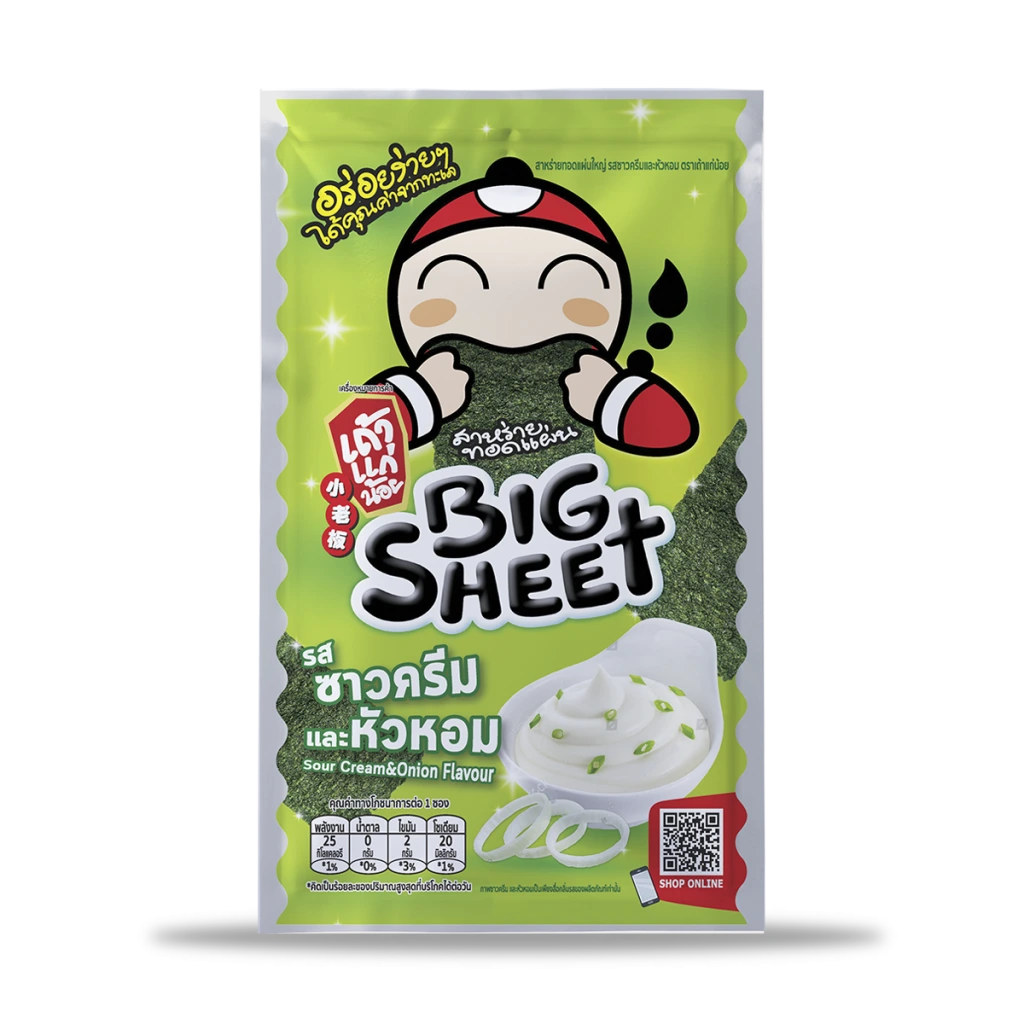 Creamy and Onion Flavor, rich with the taste and aroma of creamy and onion. It pairs well with the crispness of seaweed. If you're a fan of this flavor, I must say, you'll love it. It's delicious and delightful, leaving you wanting more.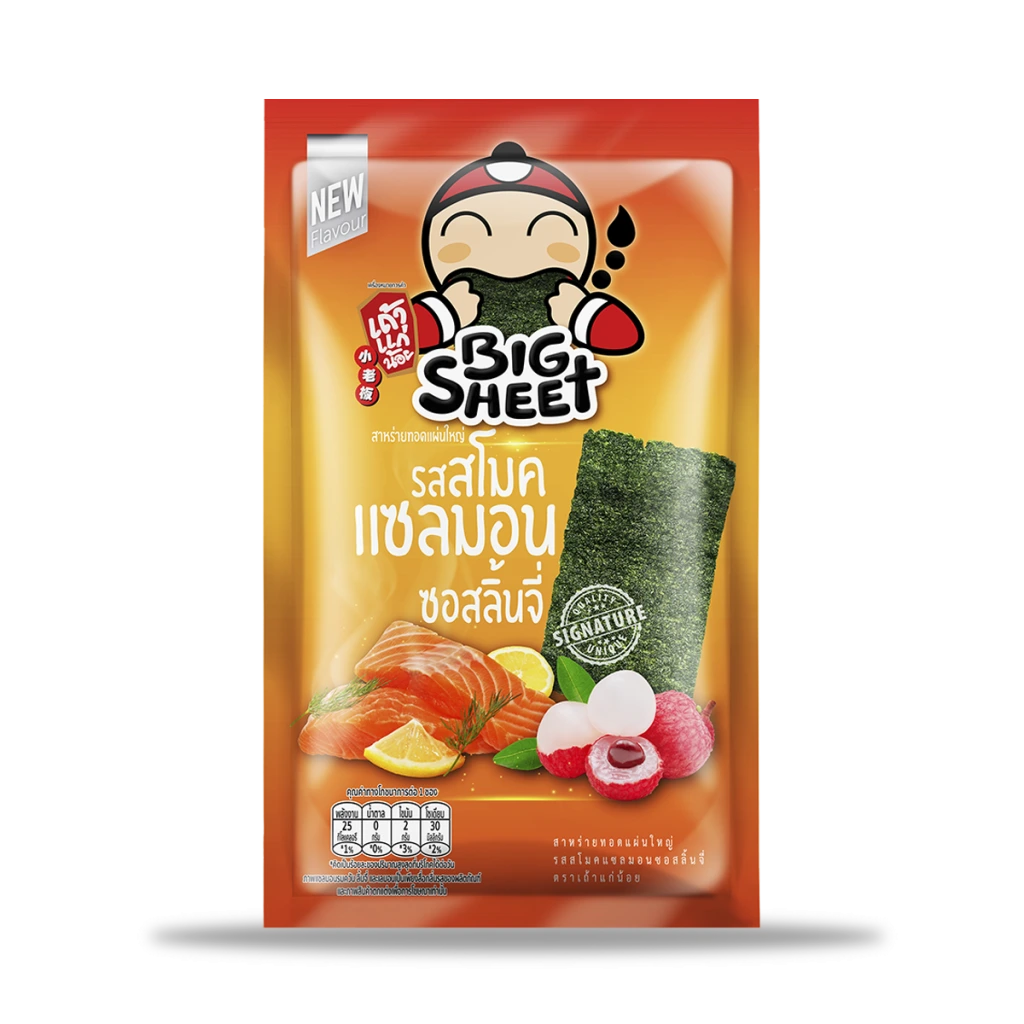 Smoky Salmon with Lychee Flavor. Who would believe that salmon pairs so perfectly with lychee? The first word you'll utter is the delightful aroma of salmon followed by the subtle sweetness of lychee, all coming together in perfect harmony with seaweed. If you don't believe it, you have to try it for yourself.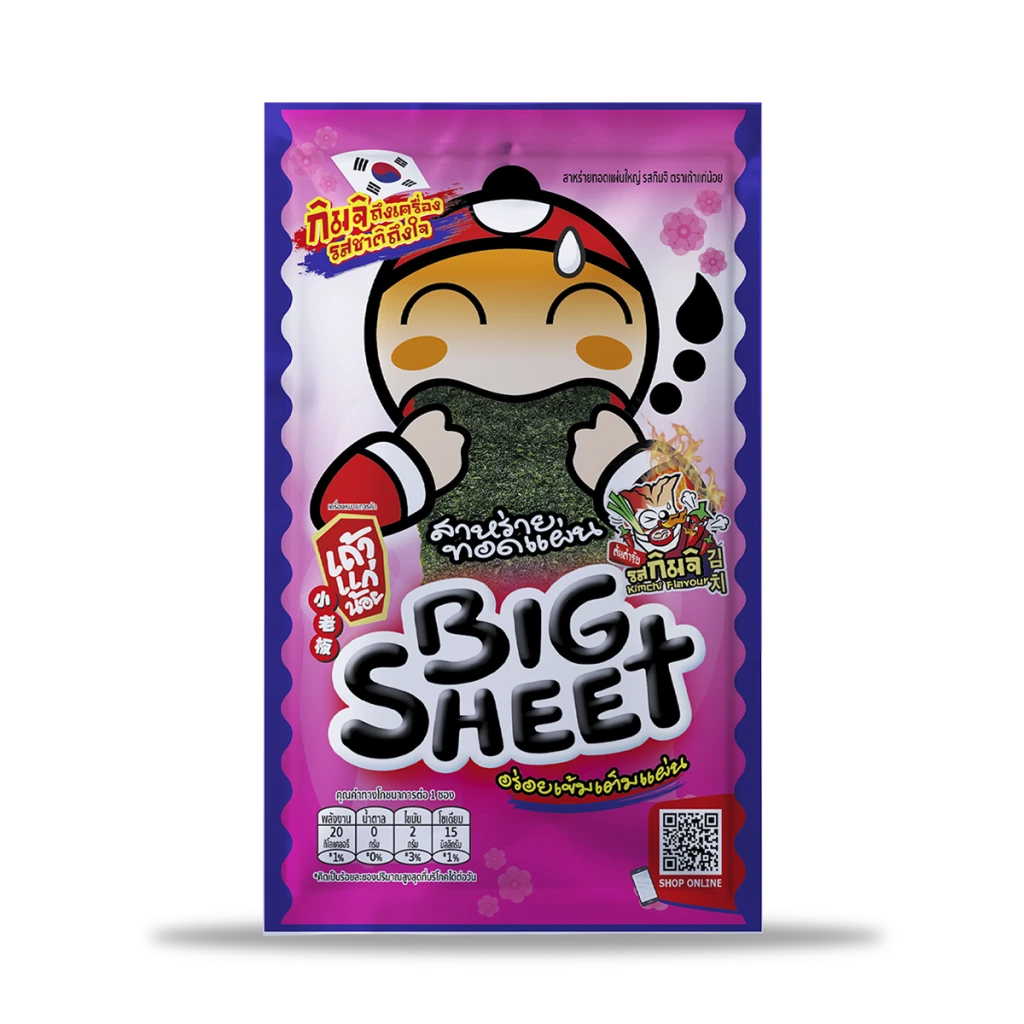 Kimchi Flavor. Delicious with the full flavor of kimchi. The perfect balance of sour, sweet, salty, and spicy, this flavorful blend pairs wonderfully with the taste of seaweed. Korean enthusiasts, if you've tried it, you'll love it.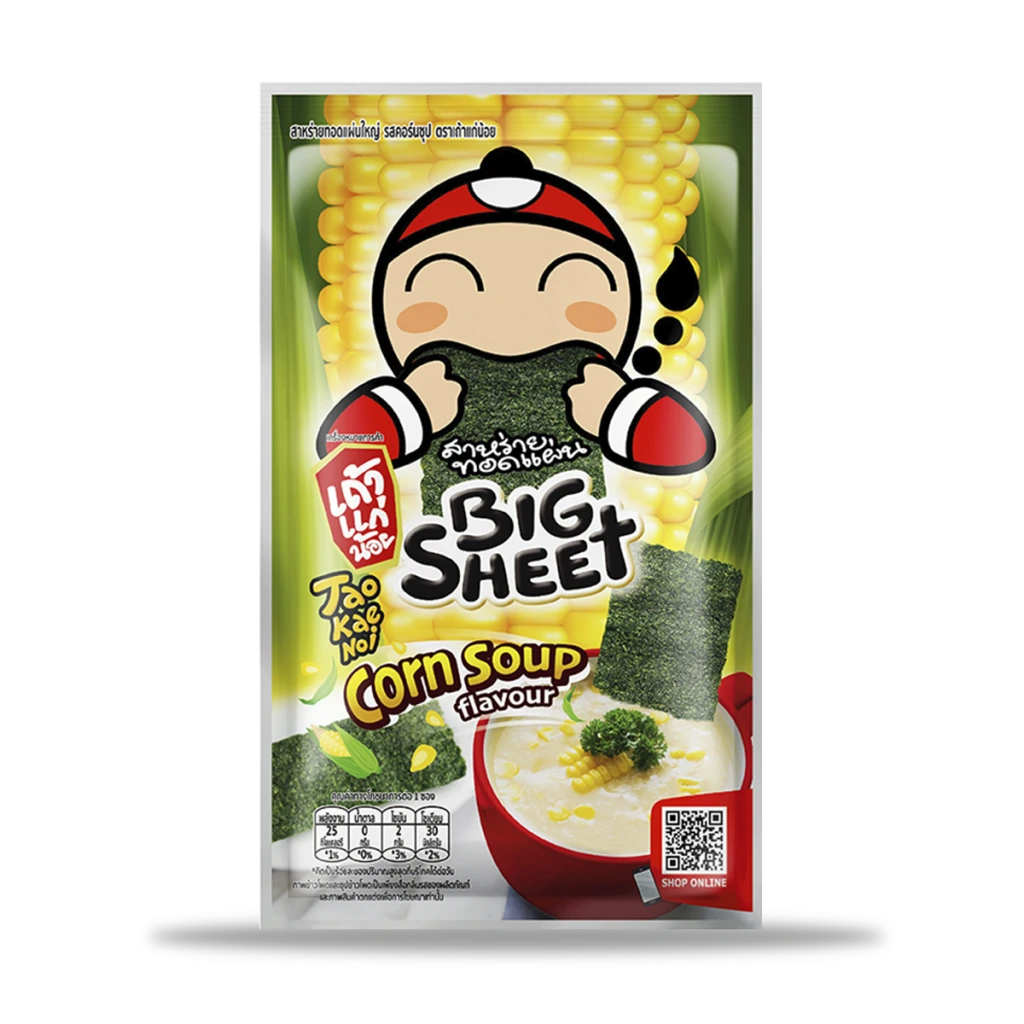 Corn Soup Flavor. Delicious with a true taste. The flavor of corn soup complements the taste of seaweed perfectly. Rich and savory, it's incredibly delicious. You have to try it!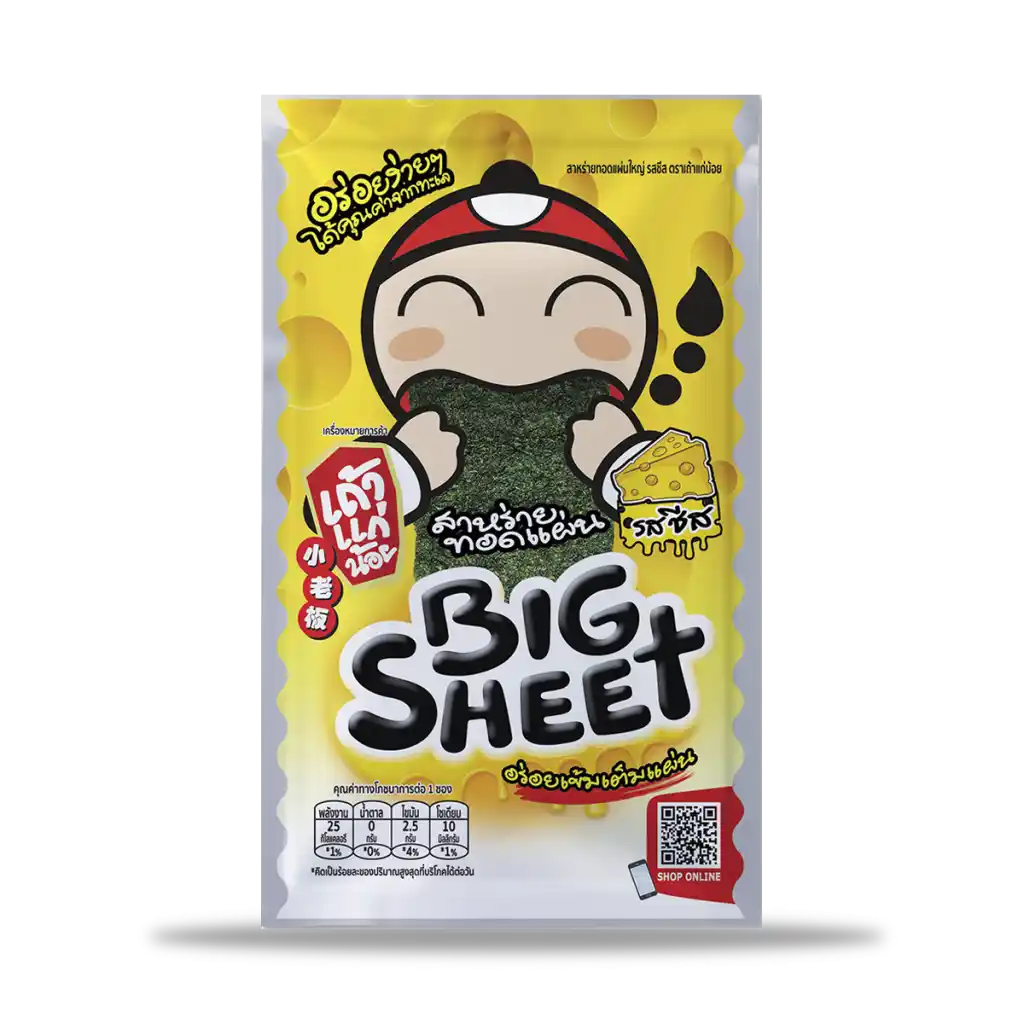 Cheese Flavor. Rich, creamy, and delicious, it's packed with cheese flavor all over the seaweed sheet. A must-try for cheese lovers. So rich and satisfying, it's good anytime, and you won't stop until the last bite.
Japanese Sauce Flavor. Satisfying the Japanese food lovers with the savory taste of Japanese sauce. When combined with seaweed, it blends perfectly. Whether you pair it with a meal or enjoy it as a snack, it adds a unique and delicious flavor effortlessly.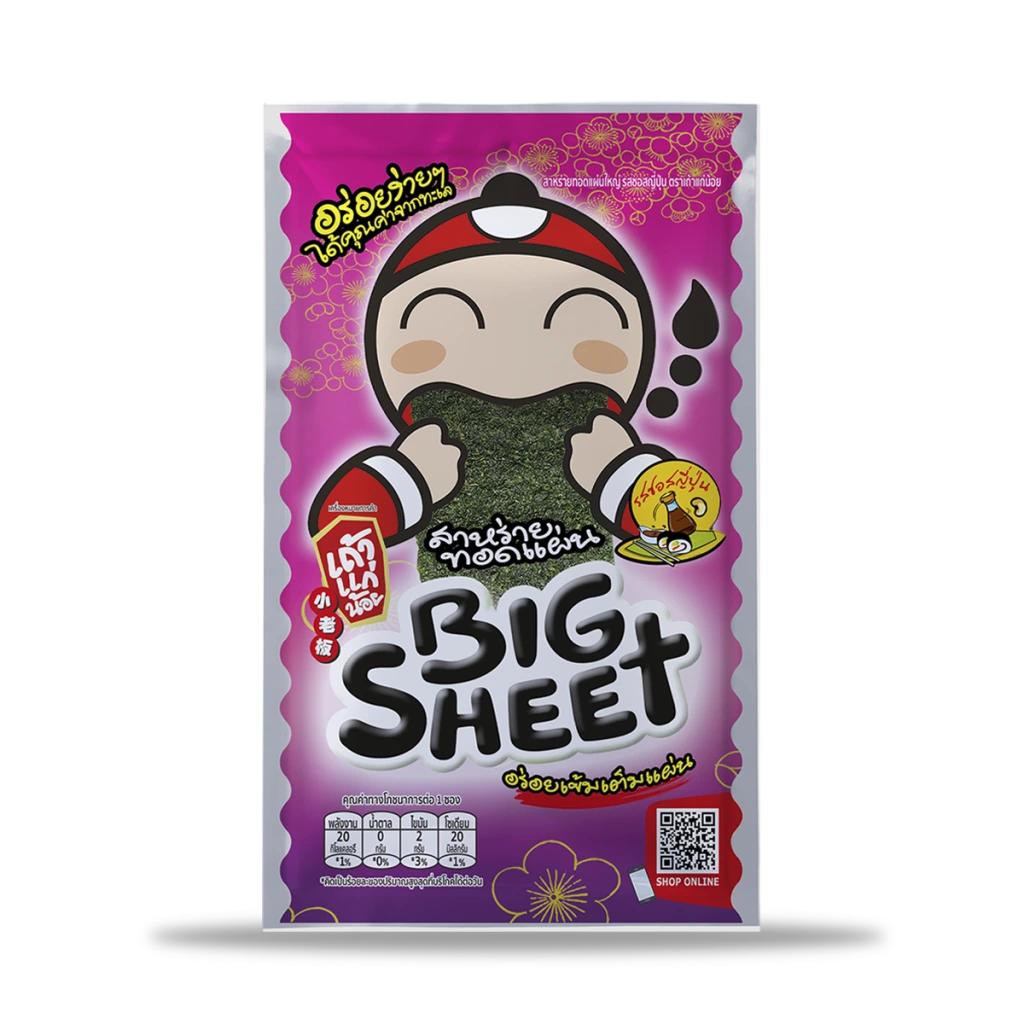 How Tao Kae Noi Seaweed Snacks Are Made
The delightful taste of Tao Kae Noi seaweed snacks has been achieved through a meticulous production process aimed at delivering high-quality products. First, we carefully select premium-quality seaweed as our main natural ingredient. It undergoes a modern and sophisticated production process to ensure that the seaweed remains crispy and delicious. We package it in high-quality packaging to preserve its nutritional value, crispiness, freshness, and deliciousness until it reaches your hands.
Why Seaweed Snacks Are a Popular Choice : The Recognized Seaweed Snack Brand
When it comes to seaweed snacks, one name stands out above the competition: Tao Kae Noi. This brand is dedicated to producing the highest-quality seaweed snacks sourced from sustainable natural environments. It guarantees that every package of seaweed snacks you receive is filled with exceptional flavor and packed with nutrients. What makes Tao Kae Noi a beloved brand by many is its commitment to essential principles, including:
Sustainability: Tao Kae Noi adheres to environmentally friendly sourcing and production practices to ensure the longevity of seaweed resources.
Quality: Every production batch undergoes rigorous quality checks to ensure that only the best products reach consumers.
Diversity: Tao Kae Noi takes pride in offering a variety of flavors to cater to everyone's preferences, whether you crave spicy or classic tastes. Dive into a world of diverse seaweed snack options with Tao Kae Noi.
Where to Buy Tao Kae Noi Seaweed Snacks
For those who want to savor the delicious taste of Tao Kae Noi seaweed snacks, you can find them at retail stores nationwide, such as Tao Kae Noi Land, Makro, CJ Express, 7-Eleven, Lotus's, FamilyMart, Tops Market, Gourmet Market, and BigC. Additionally, you can also shop online at Tao Kae Noi Shop Online, Shopee, Lazada, 7-Eleven Delivery, and Foodpanda.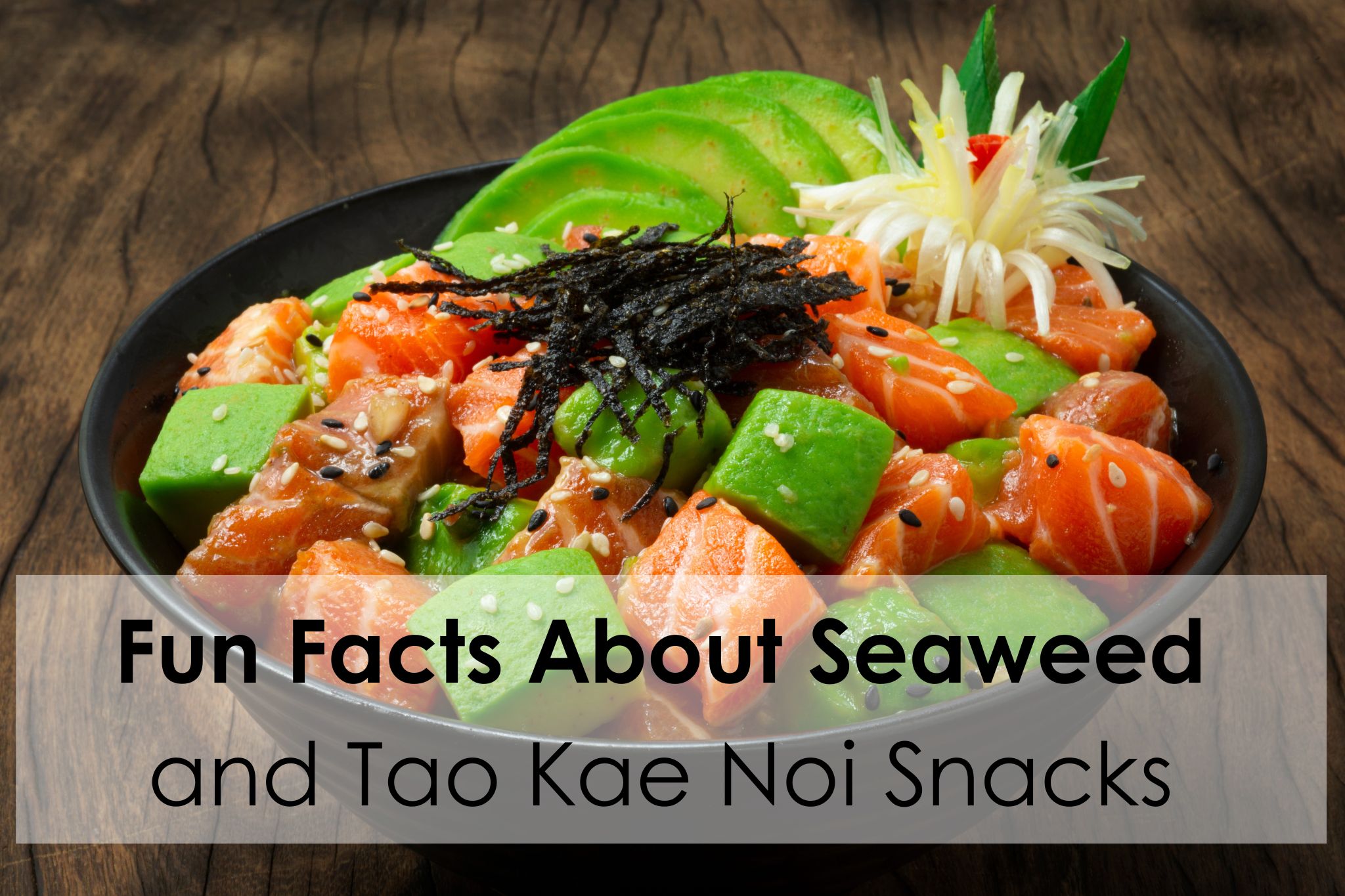 Fun Facts About Seaweed and Tao Kae Noi Snacks
Incorporate Tao Kae Noi Seaweed into Your Meals
Tao Kae Noi seaweed snacks are not only a delicious snack for your downtime but can also be a versatile ingredient to enhance the flavor of your dishes. You can use them to:
Salad: Add nutritional value and a crispy texture to your salads by topping them with Tao Kae Noi seaweed.
Soup: Elevate the crunchiness and taste of your soup by adding Tao Kae Noi seaweed, creating a unique mouthfeel.
Side Dish: Tao Kae Noi seaweed makes an excellent side dish for various types of meals, even as a complement to your regular rice, infusing a delicious flavor to your dining experience.
Customer Reviews and Feedback on Tao Kae Noi Seaweed Snacks
"Really delicious"
"Delicious and beneficial"
"Crunchy seaweed, great taste, with just the right level of spiciness, and it's affordable"
Tao Kae Noi seaweed has been recognized for its taste, backed by real customer reviews. From all the feedback we've received, the majority of it has been positive in terms of flavor, appreciated by consumers for being delicious and nutritious, easy to purchase, and reasonably priced. We are committed to continuous development to deliver high-quality products in both taste and value, providing a variety of healthy seaweed snack options.
Tips for Storing and Preserving Seaweed Snacks
To keep your Tao Kae Noi seaweed snacks crispy and delicious for an extended period, it is recommended to store them in a resealable bag or an airtight container to prevent moisture. Also, store them in a room with a temperature that is not excessively high, as excessive heat can cause the seaweed snacks to lose their crispiness.
FAQs
What are seaweed snacks?
Seaweed snacks are treats made from natural seaweed, processed using modern technology to preserve their crispiness and nutritional value for an extended shelf life. They are seasoned to achieve a delicious taste that pleases the palate, making them suitable as snacks for people of all ages and genders.
Are seaweed snacks healthy?
Seaweed snacks are made from natural seaweed and undergo a production process that helps preserve their nutritional value. This means that the nutritional benefits of seaweed are retained in the snacks. Choosing to consume seaweed snacks is another healthy option because they are rich in protein, dietary fiber, iodine, and various beneficial vitamins for the body.
Are there different types of seaweed used for snacks?
For edible seaweed, there are various options available, including nori seaweed, kelp seaweed, wakame seaweed. However, most popular choice for seaweed snack is nori seaweed,' which is often dried or fried. It is a healthy snack option that is currently popular because nori seaweed not only has a delicious taste but is also rich in nutritional value
Where can I buy seaweed snacks?
You can find them at retail stores nationwide, such as Tao Kae Noi Land, Makro, CJ Express, 7-Eleven, Lotus's, FamilyMart, Tops Market, Gourmet Market, and BigC. Additionally, you can also shop online at Tao Kae Noi Shop Online, Shopee, Lazada, 7-Eleven Delivery, and Foodpanda.
Conclusion
Come and experience a new world of fun and deliciousness that we want everyone to try. Because Tao Kae Noi is not just seaweed snacks, but also a snack that can be enjoyed by people of all ages and genders. You're bound to fall in love with the taste and benefits of seaweed. Those who care about their health won't want to miss out. Let's embark on a delicious journey together with Tao Kae Noi seaweed snacks.
References